In Service to One, In Service to All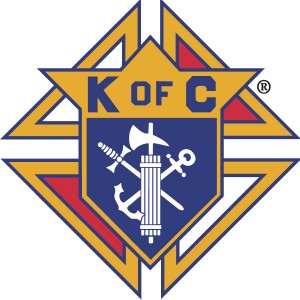 Thanks to the efforts of Father Michael J. McGivney, assistant pastor of St. Mary's Church in New Haven and some of his parishioners, the Connecticut state legislature on March 29, 1882 officially chartered the Knights of Columbus as a fraternal benefit society. The Order is still true to its founding principles of charity, unity and fraternity.
The Knights of Columbus was formed to render financial aid to members and their families. Mutual aid and assistance are offered to sick, disabled and needy members and their families. Social and intellectual fellowship is promoted among members and their families through educational, charitable, religious, social welfare, war relief and public relief works.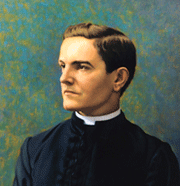 The history of the Order shows how the foresight of Venerable Servant of God Fr. Michael J. McGivney, whose cause for sainthood is being investigated by the Vatican, brought about what has become the world's foremost Catholic fraternal benefit society. The Order has helped families obtain economic security and stability through its life insurance, annuity and long-term care programs, and has contributed time and energy worldwide to service in communities.
The Knights of Columbus has grown from several members in one council to more than 14,000 councils and 1.8 million members throughout the United States, Canada, the Philippines, Mexico, Poland, the Dominican Republic, Puerto Rico, Panama, the Bahamas, the Virgin Islands, Cuba, Guatemala, Guam and Saipan.
Our Principles
All the good works we do are informed by our four core principles:
Charity – Our Catholic faith teaches us to "Love thy neighbor as thyself." Members of the Knights of Columbus show love for their neighbors by conducting food drives and donating the food to local soup kitchens and food pantries, by volunteering at Special Olympics, and by supporting, both spiritually and materially, mothers who choose life for their babies. Knights recognize that our mission, and our faith in God, compels us to action. There is no better way to experience love and compassion than by helping those in need, a call we answer every day.
Unity – None of us is as good as all of us. Members of the Knights of Columbus all know that – together – we can accomplish far more than any of us could individually. So we stick together…we support one another. That doesn't mean that we always agree or that there is never a difference of opinion. It does mean that – as a Knight of Columbus – you can count on the support and encouragement of your brother Knights as you work to make life better in your parish and community.
Fraternity – The Venerable Michael J. McGivney founded the Knights of Columbus, in large part, to provide assistance to the widows and children left behind when the family breadwinner died – often prematurely. The Order's top-rated insurance program continues to do this today, as do individual Knights, who last year gave more than 10 million hours of their time to assist sick and/or disabled members and their families. In the Knights of Columbus, we watch out for and take care of one another.
Patriotism – Members of the Knights of Columbus, be they Americans, Canadians, Mexicans, Cubans, Filipinos, Poles, or Dominicans, are patriotic citizens. We are proud of our devotion to God and country, and believe in standing up for both. Whether it's in public or private, the Knights remind the world that Catholics support their nations and are amongst the greatest citizens.
Our History
Growth of the Knights of Columbus
On Oct. 2, 1881, a group of men met in the basement of St. Mary's Church on Hillhouse Avenue in New Haven, Connecticut. Called together by their 29-year-old parish priest, Father Michael J. McGivney, these men formed a fraternal society that would one day become the world's largest Catholic family fraternal service organization.
They sought strength in solidarity, and security through unity of purpose and devotion to a holy cause: they vowed to be defenders of their country, their families and their faith.
These men were bound together by the ideal of Christopher Columbus, the discoverer of the Americas, the one whose hand brought Christianity to the New World. Their efforts came to fruition with the incorporation of the Knights of Columbus on March 29, 1882.
They were Knights of Columbus.
The Order has been called "the strong right arm of the Church," and has been praised by popes, presidents and other world leaders, for support of the Church, programs of evangelization and Catholic education, civic involvement and aid to those in need.
Father McGivney's founding vision for the Order also included a life insurance program to provide for the widows and orphans of deceased members. The Order's insurance program has expanded substantially to serve more effectively the Knights' growing membership.
Year after year, the Knights of Columbus has earned the highest possible quality ratings for financial soundness from A.M. Best and Standard & Poor's. The Order provides the highest quality insurance, annuity and long-term care products to its members, along with many other fraternal benefits.
The Supreme Council is the governing body of the Knights of Columbus and is responsible for the development of the organization as a whole. Supreme Council duties include establishing the Order in new regions and setting up regional authorities, defining and advancing its values and goals, undertaking organization-wide initiatives, promoting awareness of the Knights' mission worldwide, and protecting the families of members through its extensive insurance program. Members working in local, or subordinate councils, however, carry on the majority of the Knights' beneficial work.
Why Join the Knights of Columbus?
Imagine being part of an organization that fills your heart and your mind with the joy of giving to others and the feeling that comes with making a difference.
Knights are Catholic men, 18 years of age and older, who are committed to making their community a better place, while supporting their Church. Being a Knight is more than camaraderie; it is being involved with your community; it is supporting your local Catholic Church, while enhancing your own faith; it is about protecting and enhancing your family life.
Prospective Member Questions and Answers?
1. I don't have time to join another organization; why should I join the Knights of Columbus?
As a Knight you can choose the projects with which you wish to be involved in within your own community. What is more, the Order is dedicated to family life and the many benefits it offers. From insurance to scholarships to service and social activities and programs, all are open to the whole family.
Membership in the Knights of Columbus is open to men 18 years of age or older who are practical (that is, practicing) Catholics in union with the Holy See.
3. What is a practical Catholic?
A practical Catholic accepts the teaching authority of the Catholic Church on matters of faith and morals, aspires to live in accord with the precepts of the Catholic Church, and is in good standing in the Catholic Church.
4. Explain what Degrees are.
There are four degrees within the Knights of Columbus. Each degree ceremony imparts a lesson on the Order's core virtues of Charity, Unity, Fraternity and Patriotism.
5. Do I have to purchase Insurance to become a member?
No; unlike many fraternal organizations one does not become a member by purchasing insurance. In the Knights of Columbus a man has to be a member before he may avail himself of the insurance benefit. Purchasing insurance is optional, however; the life insurance and long-term care insurance products offered by the Order are not only competitively priced, they are among the most solid and highly rated products available anywhere. Standard & Poor's and A.M. Best, the leading independent agencies that rate insurance companies, give K of C insurance their highest ratings.
How to Join

If you are a practical Catholic man, age 18 or older, we welcome you
to join the leading organization of Catholic laymen.
Being a Knight is more than camaraderie; it is being involved with your community;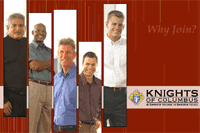 it is supporting your local Catholic Church, while enhancing your own faith; it is about protecting and enhancing your family life. Come see just what we are all about and take the first steps to enhance your personal life by viewing the segment, "Why Join?"It is likely that there is a local council near you. Applicants must apply to their local council located a a parish, college campus or in the community. Here are a number of ways to find a council.
Find A Council. This feature will give a list of councils in your area.
Contact your local parish office. Often your parish will have its own local council. If not, your parish priest or parish office should be aware of the nearest council in the area.
Contact your campus minister on your college or university campus.
Look in the Yellow Pages. Local Knights of Columbus councils are normally listed under the "Clubs and Organizations" section in the phone book listings.
Ask a friend in the Knights for help.
Call the Supreme Council at (203) 752-4044.
If you are interested in joining the Knights of Columbus, please complete our inquiry form.
We will provide your information to a local unit in your area with the request that they contact you.
If there is no council in your area go to the Knights of Columbus Council Growth and Development page to learn how to start your council.